Cryptotourism? Don't tell me you're surprised.
On Tuesday, Binance, a cryptocurrency exchange, announced that it was, in honor of World Tourism Day, giving away $50,000 (in cryptocurrency) as the prize in a scavenger hunt, which will take place in Estonia and Nigeria.
I honestly do believe that cryptocurrency will, increasingly, gain legitimacy. As will, I dearly hope, World Tourism Day, created and promoted by the United Nations World Tourism Organization. The most prominent news organizations that covered 2022's World Tourism Day were … well, I'm not quite sure which was most prominent. Was it the Namibia Economist? The Arunachal Times? The Patriotic Vanguard? Buro Happold? In the first three pages of results after searching "World Tourism Day" and then looking under "news," not a single media company more prominent than those mentioned above had written about it.
However, the marriage of cryptocurrency and World Tourism Day can be seen as yet further evidence of the perception that travel is powerful: A crypto exchange, serving an industry that's widely thought to be in the deepest of deep winters, is turning to tourism for help.
And, speaking of the U.N. …
Mid-September saw U.N. Week, when leaders gather from around the world to convene in the General Assembly. The result was that New York City was thick with world leaders. I met two last week.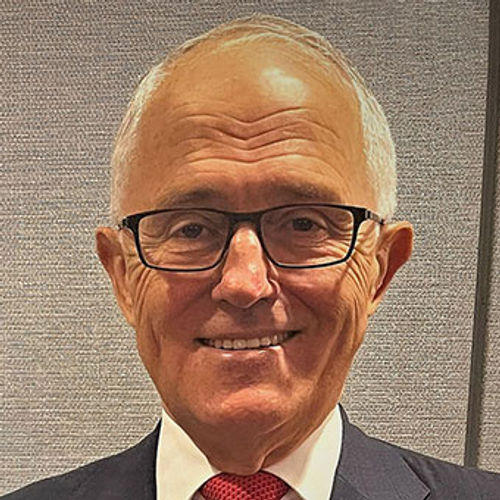 Malcolm Turnbull
Two, that is, if you're willing to accept a former prime minister as a world leader. I moderated a Climate Day panel organized by the World Travel and Tourism Council (WTTC), and preceding me on stage — and waiting in the green room with me — was former Australia prime minister Malcolm Turnbull. Because Australia had been locked down and closed for longer than many countries, I asked him how the country fared without tourism when he was the head of state during the pandemic.
"The impact was devastating, there's no doubt about that," he said. "Tourism is our biggest service export, a massive export, as it is in every country. Tourism is coming back, but … there are still no Chinese tourists."
Turnbull was preparing to be interviewed by Julia Simpson, CEO of the WTTC, on the necessity of travel companies becoming more sustainable in the face of climate change. When they do, he told me, "it sends a strong message to government. It provides," he paused, "a penetrating glimpse of the obvious."
Sustainable alternatives, he continued, more than compensate for the financial costs of ending destructive, but lucrative, practices. "Revenue from whale-watching vastly exceeds any that could be obtained from marketing whale meat," he said. "Any community that has gone from whaling to whale-watching has done much better economically."
Clients don't care. Should you?
In response to my recent column, "Apocalypse now? Or, perhaps, tomorrow?" (Sept. 19), on the impending impact of climate change on the travel industry, I received an email from the manager of a West Coast travel agency who wondered what truly motivated suppliers to promote their sustainability efforts. 
"Since 2020, I've watched countless Zoom presentations from travel suppliers talking about 'sustainability,'" he wrote. "I've been booking travel, mostly for the middle class and professionals since 1989 and, to my memory, I have NEVER had a client express that being 'environmentally friendly' is a priority or request a sustainable travel experience.
"Obviously, there is a market for environmentally-sensitive travelers, but how large is it? One percent? Two percent? At my small agency, invariably travel decisions come down to some combination of cost, convenience, comfort and supplier loyalty/points."
I don't doubt it. Traveler sentiment surveys I've seen indicate that 10% to 12% of consumers say they would pay extra to travel sustainably (whatever that means to them), and I suspect some percentage of those who say they will don't actually follow through.
So why all the Zooms from suppliers on the topic? The reasons must vary, but I think they are variations on one of these themes:
a) A request for a proposal to a travel company will likely ask what, specifically, the company does to operate responsibly.
b) Similarly, questions may arise from environmental groups or activists, with the possibility of negative publicity if nothing is being done.
c) If a resort, tour operator or cruise line still uses plastic straws or hands out plastic water bottles, even the travelers who don't consciously choose to travel sustainably may call them out on it.
d) Conversely, if the company distributes reusable water bottles or water in paper cartons, even those travelers who don't choose to travel sustainably will look favorably on the company (the more meaningful the action, the more credit they'll get).
e) Travelers on really luxurious and indulgent trips to developing countries will feel less guilt if the host company supports poor communities nearby.
f) If a supplier is looking at the costs of mitigating climate change in the future versus taking action today, they may save money by acting now.
g) Climate change is real and scary, and some suppliers sincerely want to be part of the solution rather than the problem.
My panel at the WTTC event — all believers in the last of these — explored the importance of travel companies taking care to promote biodiversity in destinations and on trips. On the panel were Helen Usher, director of Animondial, which recently produced a report on the topic of biodiversity with the WTTC; Fred Dixon, CEO of NYC & Company; and Darrell Wade, executive chairman of Intrepid Group.
It might appear that "sustainability," a word that seems to both expand and dilute its meaning over time, is getting fairly granular when the WTTC highlights the need for travel companies to address biodiversity. But all three panelists spoke knowledgably about its relevance and importance.
Yet, realistically, can travel companies be expected to have expertise in every area that resides under the sustainability umbrella?
Wade indicated that sustainability efforts have become as much a part of the fabric of his company as any other part that requires metrics and measurement. "As CEO, I can't have expertise in everything. I don't have to be an accountant, for instance, but I do need to hire an accountant." When it comes to various areas of operating responsibly, he said, he takes on appropriate staff.
Opening season redux
A wave of countries that had been seriously locked down for a long time have announced their opening dates and lifting of pandemic-specific requirements. Most exciting to me was news about Asian countries getting fully back onto the map.
On the same day as the WTTC panel, I spoke at an event organized by the Japan National Tourism Organization. Fumio Kishida, the prime minister of Japan, spoke at the event, as well, and hinted that the country would be opening very soon; the next day, he announced that, beginning Oct. 11, individual travelers would again be allowed in.
And I was intrigued by Bhutan's reopening announcement; there was much more to unpack in it than in most media releases because it was not just reopening but resetting its expectations for tourism.
Once again, sustainability took center stage. Bhutan is one of the world's few carbon-negative countries (last year, it sequestered 9.4 million tons of carbon against an emission capacity of 3.8 million tons), and it has decided to lean into its sustainability credentials and test the limits of what travelers will pay to visit there. In reopening, it upped its sustainable development fee from $65 to $200 per person, per night.
Although "sustainable" is in the fee's name, it appears to be more a general development tax. While portions of it will be spent offsetting the carbon footprint of visitors by planting trees, cleaning and maintaining trails, reducing the country's reliance on fossil fuels and electrifying Bhutan's transportation sector, it will also be spent on economic, social and cultural development, including helping to fund free healthcare and education for all.
The country is making other policy changes, as well, including allowing visitors to book directly with suppliers rather than going through an arm of the Tourism Council of Bhutan. And it is rebranding its tourism promotions around the tag line "Believe."
Interestingly, the country seems to be both expanding the spectrum of sustainability yet also returning to the word's traditional definition. Reading the Bhutan reopening statement, it struck me that most travel companies approach sustainability in a piecemeal fashion, focusing on plastics, water conservation, clean fuel, biodiversity, et cetera. Bhutan's approach is to look not only at its environmental needs but what it needs to sustain as a country — healthcare, education, infrastructure — and turn to travel and tourism to achieve it. If Binance, the cryptocurrency exchange, latched onto World Tourism Day as a gimmick to help revive its fortunes, Bhutan is looking to tourism as a long-term path to its future.
"The minimum fee we are asking our friends to pay is to be reinvested … a shared asset for generations," the country's prime minister, Lotay Tshering, said in a statement accompanying the announcements. "Welcome to Bhutan."