The booming cryptocurrency market has spawned a wave of India crypto influencers who are capitalizing on a voracious hunger for information from rookie investors striving to get rich quick.
They have amassed huge followings on social media with top-ranked Sapna Singh now counting 614,100 followers across YouTube, Twitter, Telegram and Instagram.  Crypto India founder Aditya Singh is not far behind with more than 599,895 followers. Their offerings include free tutorials on crypto investing and explainers on everything from blockchain technology to policy changes. 
They operate in one of the most vibrant crypto markets in the world. India ranked next only to Vietnam in Chainalysis' Global Crypto Adoption Index for last year, which ranked 154 countries using metrics such as trading by non-professionals and peer-to-peer exchange trading volume. 
CoinSwitch Kuber, a leading domestic exchange, claims India has 14 million crypto users while Binance-backed WazirX saw trading volumes surge an astonishing 1,735% to over $43 billion in 2021, the highest in the country.
This is despite the government's policy flip-flops. As recently as December, New Delhi considered a bill to prohibit all private cryptocurrencies only to backtrack in February with a 30% tax on income from them instead. 
The high rate has infuriated crypto enthusiasts, who fear a brain drain to friendlier tax climes. Calls to slash the tax are growing louder on many channels. 
Here's Asia Financial's ranking of India's top 10 crypto gurus by total followers across Youtube, Twitter, Telegram and Instagram:  
1: Sapna Singh
Sapna Singh began trading cryptos while still in college. Just 24, she is the topmost female YouTuber for crypto with a following of 247,000. It is easy to see why. Her channel is called Earn With Sapna and while she covers more than crypto as an asset, her how-tos and price forecasts remain staples. 
Singh believes investors should study cryptos in depth before opening their wallets. Her other advice? "Try to learn technical analysis and be active on social media platforms to identify current trends and news. Be confident in yourself and the sky is the limit."
2: Aditya Singh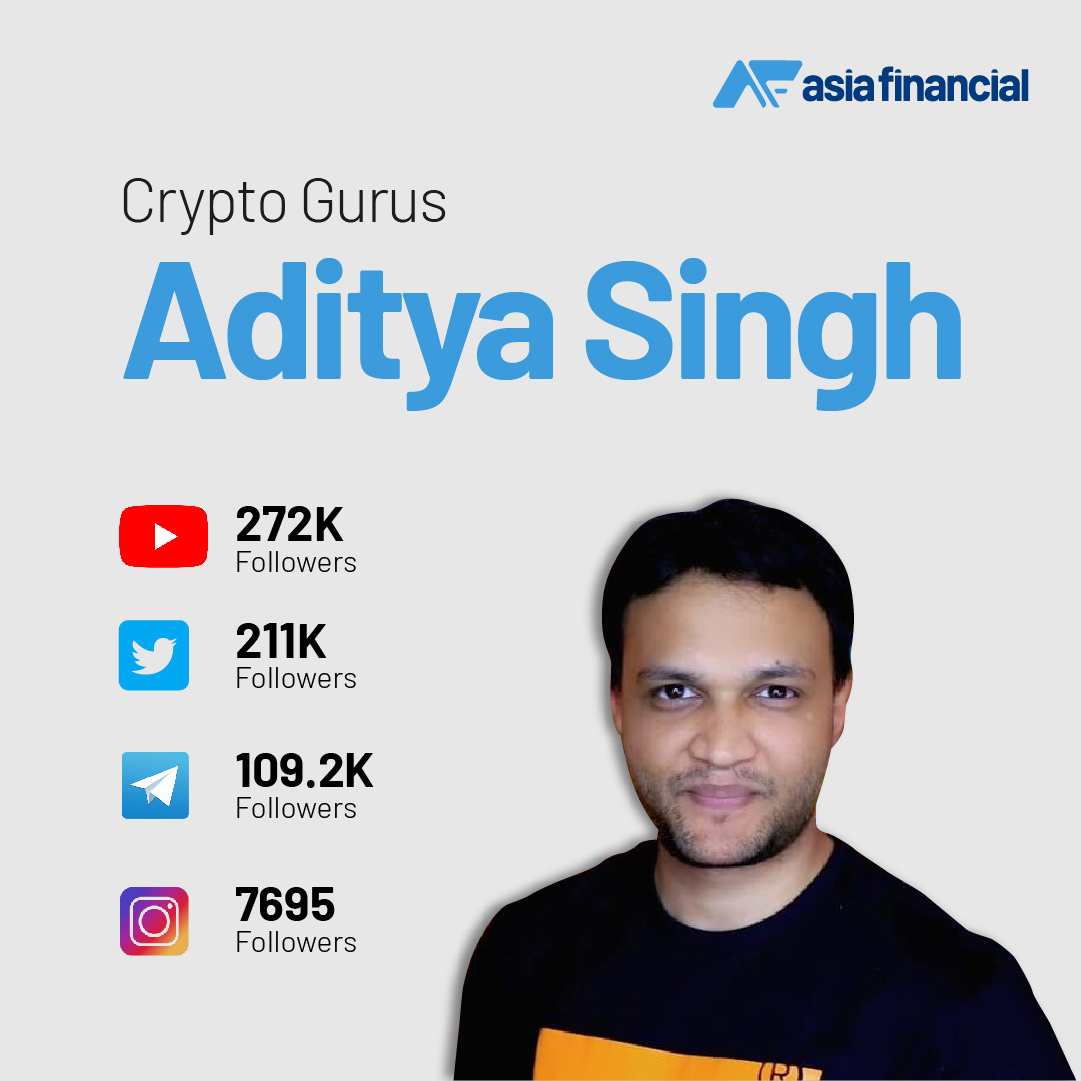 Aditya Singh's Crypto India, a YouTube channel that he co-founded in 2017, has 272,000 followers. 
In a chat with Asia Financial, Singh, who declined to reveal his age, said he was taken aback by the many pyramid-selling schemes in India when he started trading. He now aims to train investors to identify scams and covers them exhaustively. 
Singh was the only YouTuber to do a live analysis of the 30% crypto tax announced early this year. In February, he released an online petition asking the government to review the tax and has gathered almost a million signatures so far. 
Singh has also financially helped "play-to-earn" gamers, many of whom have started to depend on their NFT winnings to earn a living, especially in Asia. He is part of a joint initiative that funds the initial cost of playing Axie Infinity, a popular blockchain-based monster-battling game, in return for a share of the winnings.
3: Pankaj Tanwar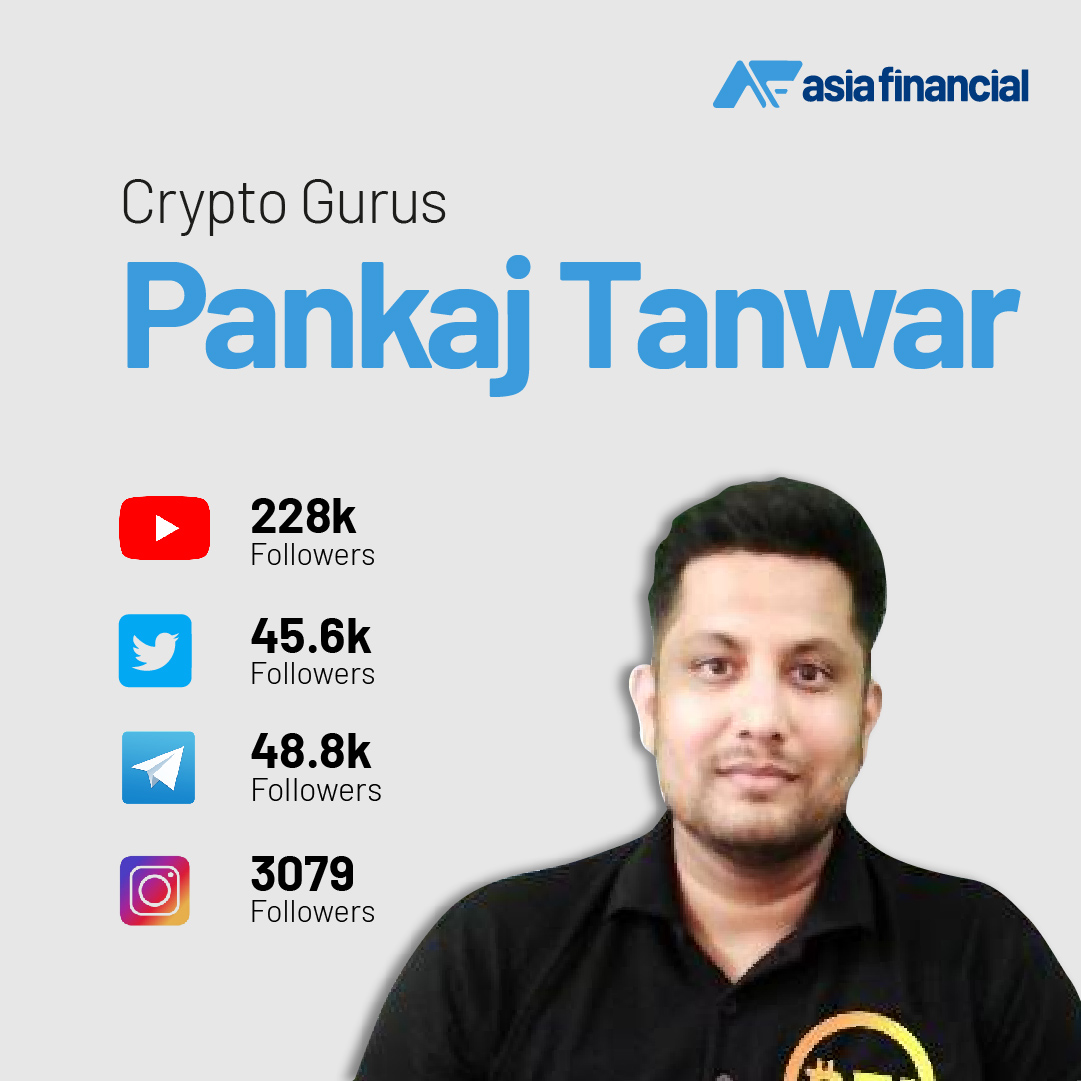 Pankaj Tanwar, 37, discovered the importance of research when he lost a chunk of money to a bitcoin mining company scam that promised 180% returns. That was in 2015. He spent the next five years learning about the crypto industry and now has a YouTube channel called Bitcoin Expert India. BEI24, an online platform he founded in 2015, focuses on crypto education. 
"We are in a golden era of technology and globalisation and Indians must not be left behind," he says. Pointing to the growing need for crypto experts in IT, Tanwar says young Indians should be aware of the fact that the blockchain developer's job is among the highest paid in the country.
Tanwar's 'Advanced Bitcoin Cryptocurrency and Blockchain Course' is on Udemy.
4: Budhil Vyas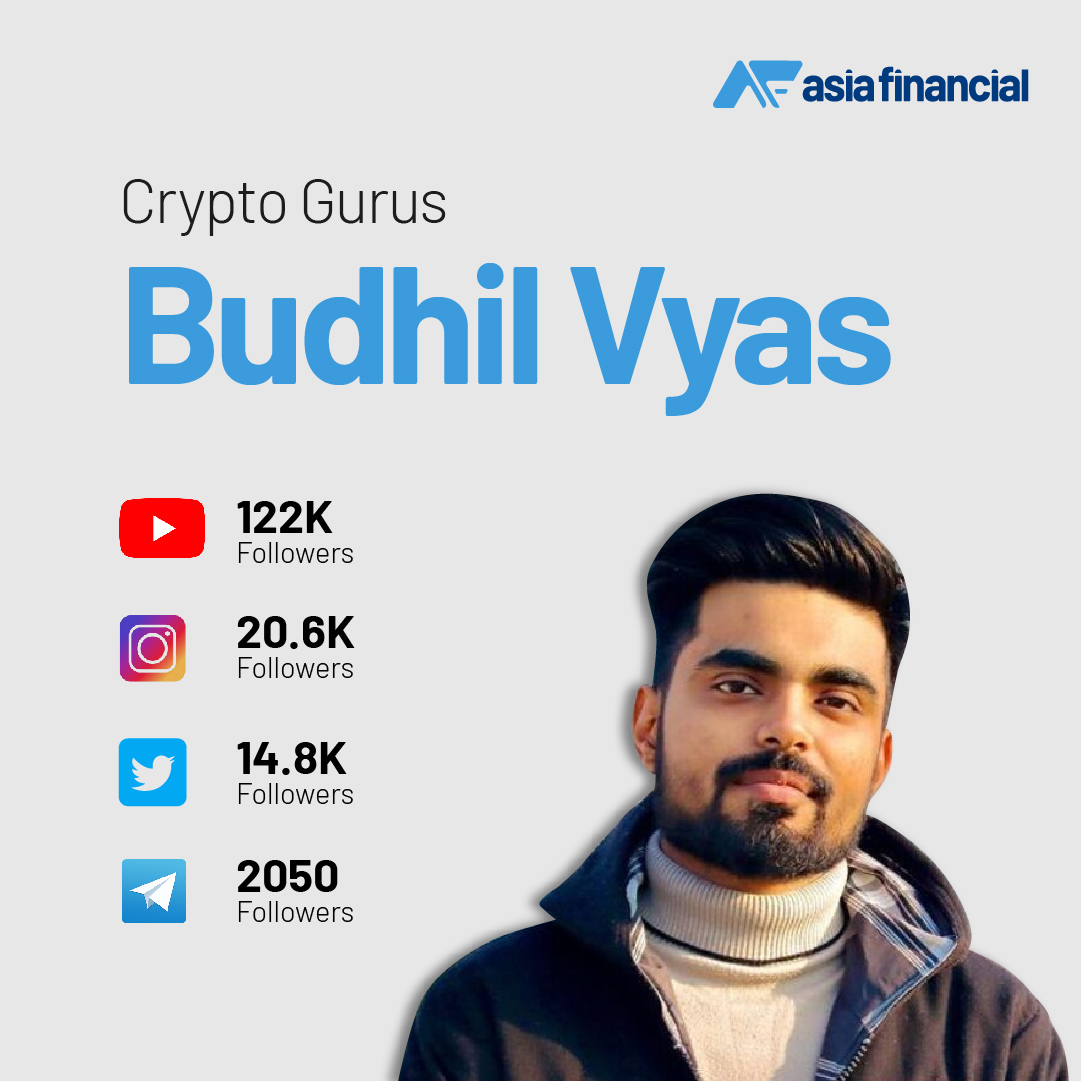 A data scientist, 23-year-old Budhil Vyas's crypto journey began in Napasar, his village in the northwestern state of Rajasthan, where he shared tips on crypto investing with the interested. His advice, based on technical and fundamental analysis, often resulted in profits and his reputation began to spread. He started his YouTube channel 'Crypto Talks' in 2020, providing updates on the market, related developments and education across the country. 
He is a fan of SAND and MANA, metaverse tokens that he thinks will surge in value in the coming decade. 
Vyas warns against relying on crypto advertisements or solely on YouTubers without understanding the asset. "Only a handful understand the power of holding on to cryptos as a long-term investment," he says.
5: Shivam Chhuneja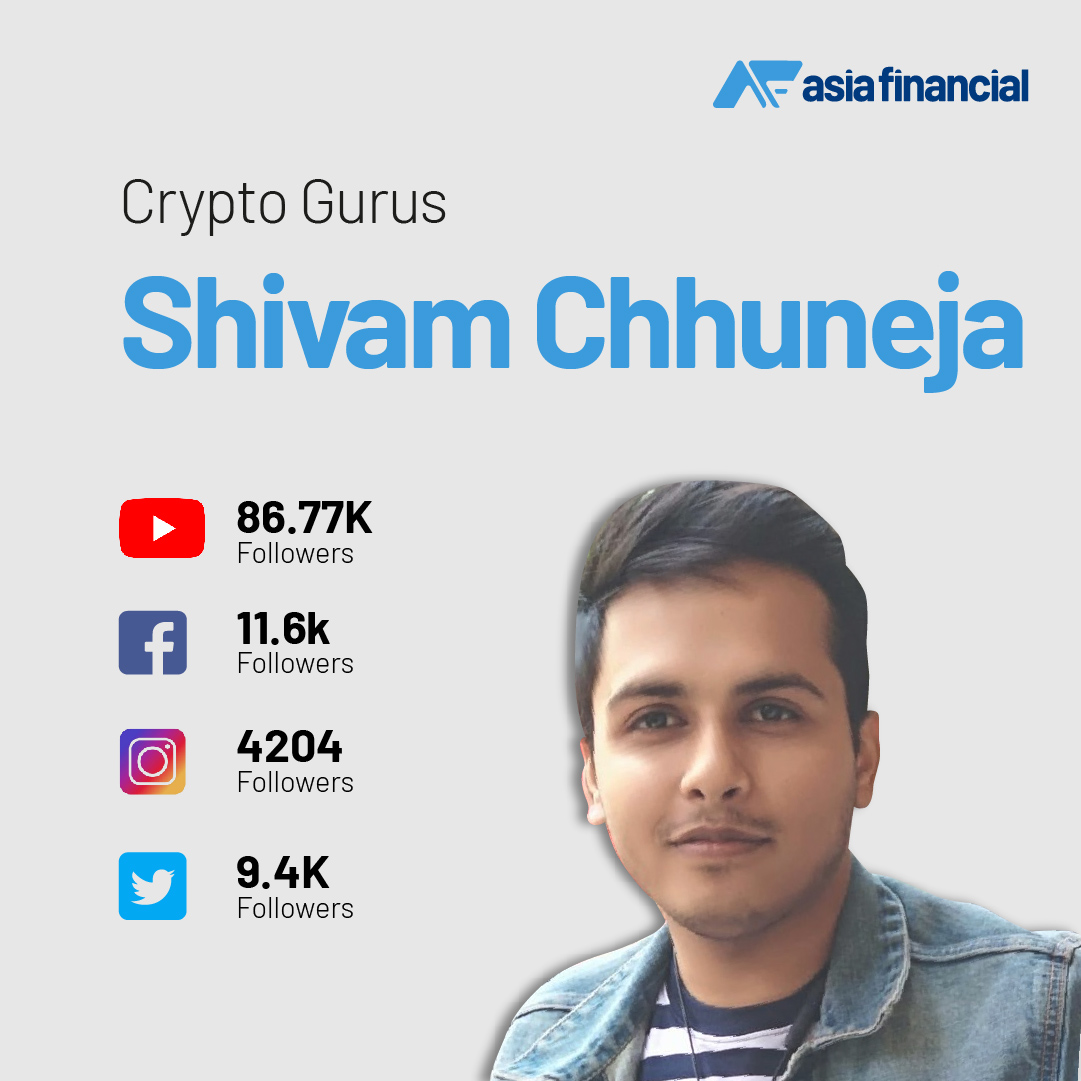 Shivam Chhuneja, a marketer and entrepreneur, launched his eponymous YouTube channel in 2014 when he was just 21 and has since been a vocal proponent of crypto education. 
"I am in touch with a lot of single mothers who are making money through crypto trading in India, which is encouraging because we need more women in the crypto and blockchain space," he says.
He describes India's crypto scene as the wild west and frequently warns his audience about just how easy it is to get scammed. 
Shivam has two other channels 'Financial Funda' and 'TheStoicWealth,' which focus on blockchain technology and personal finance, in addition to crypto. 
He is currently building out Zionverse, a metaverse gaming platform based on Indian culture and history. In 2021, he helped launch Laxmi NFTs, each with a unique GPA (gold purchasing ability), which decides its value. The higher the GPA, the rarer the NFT.
6: Kashif Raza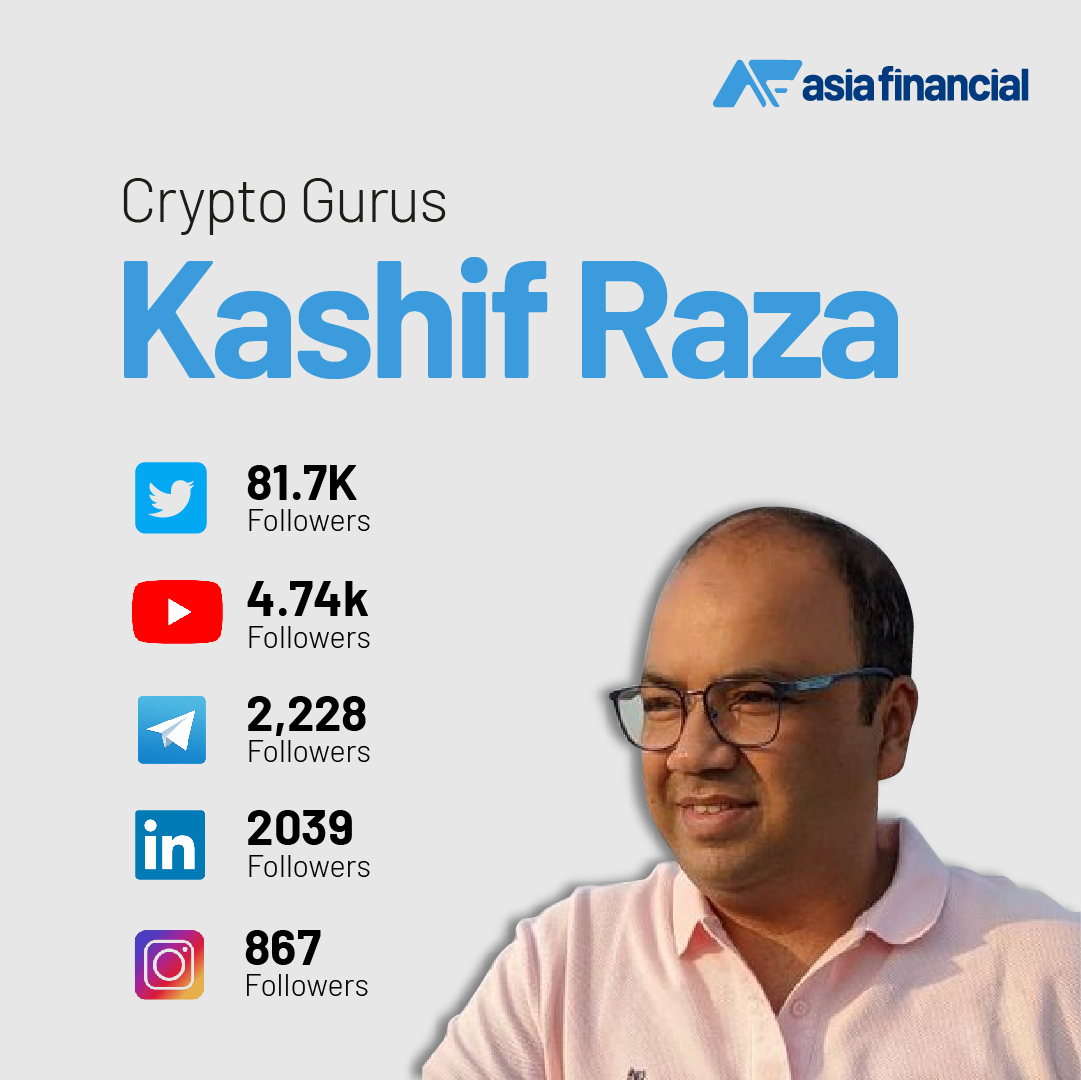 Kashif Raza, 41, began his crypto journey with a blunder, borrowing at 21% to fund his first purchase of Bitcoin in 2017. He lost it all to what he calls a Ponzi scheme. In a thread pinned to his Twitter profile, Raza lists the 10 mistakes he made as a beginner and urges investors to take a long-term view when investing in cryptocurrencies. 
Raza co-founded in 2018 Crypto Kanoon (Crypto Law in Hindi), a YouTube and Twitter platform for regulatory news and analysis, and was the first to provide live updates when the central bank clamped down on crypto trading that year. 
Today, he is active on Bitinning, a platform he founded last year with the goal of educating traders at all levels. Besides the basics, Raza covers Non-Fungible Tokens (NFTs), which are tradeable versions of a digital asset, Web3, a decentralised blockchain-based system that aims to shift control to the user, and metaverse and fintech developments. 
In recent weeks, Raza's videos explaining the Indian government's tax proposal and the role of crypto in the Russia-Ukraine war, posted on Instagram and Twitter, have proved especially popular, gathering thousands of views.
7: Ajeet Khurana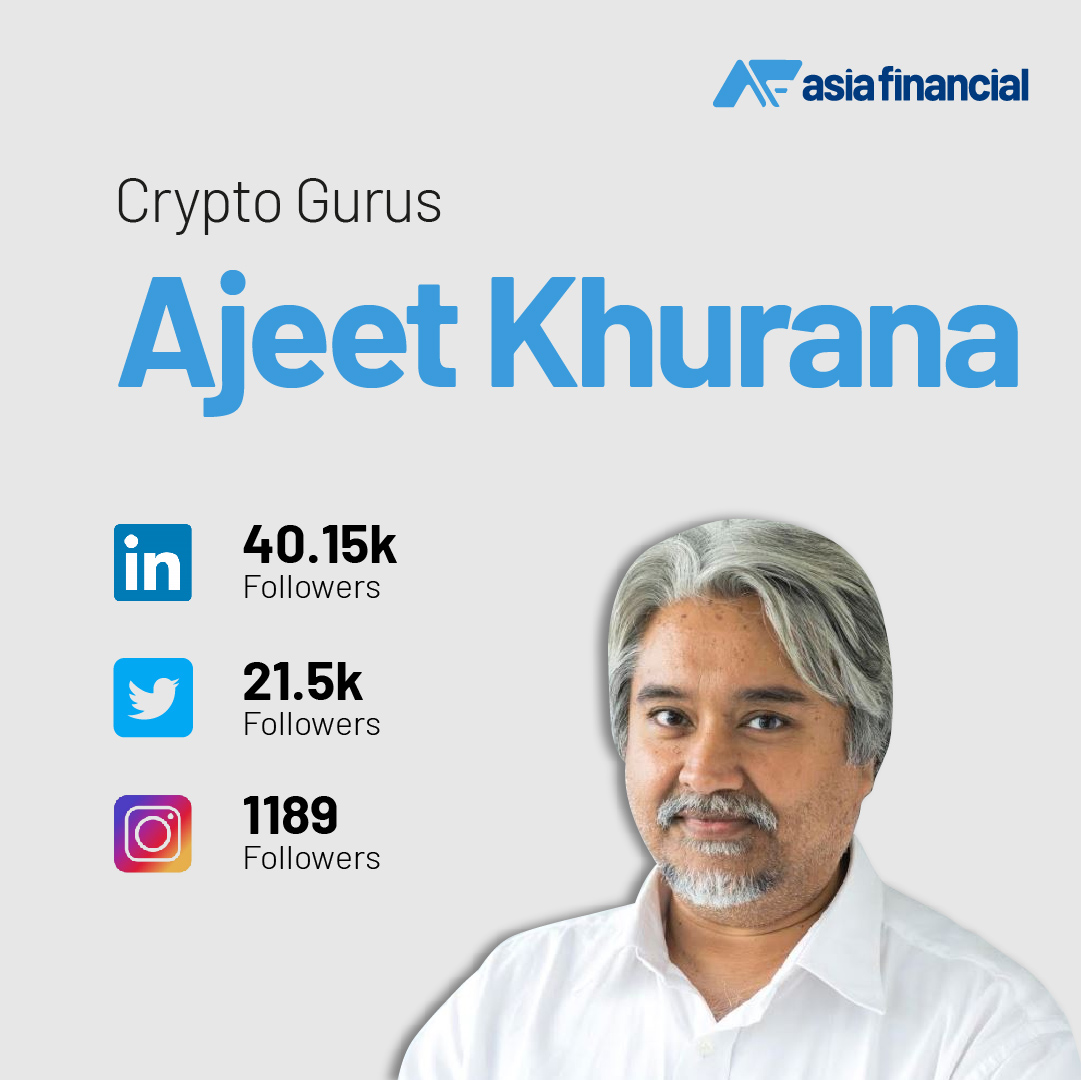 As a fintech expert, Ajeet Khurana was among the first to highlight crypto's potential in India. The 52-year-old is the ex-CEO of ZebPay, India's oldest global crypto exchange, which began operations in 2014, and has headed the Blockchain and Crypto Assets Council, a domestic advisory body. 
Khurana now helps startups in the field through Genezis Network, which he co-founded with Pareen Lathia, another guru in this list.
His crypto workshops are a regular feature on GrowthSchool, an emerging Indian edutech company. He specialises in tokenomics and market mechanisms and has been the go-to crypto expert for Indian TV channels. 
8: Naimish Sanghvi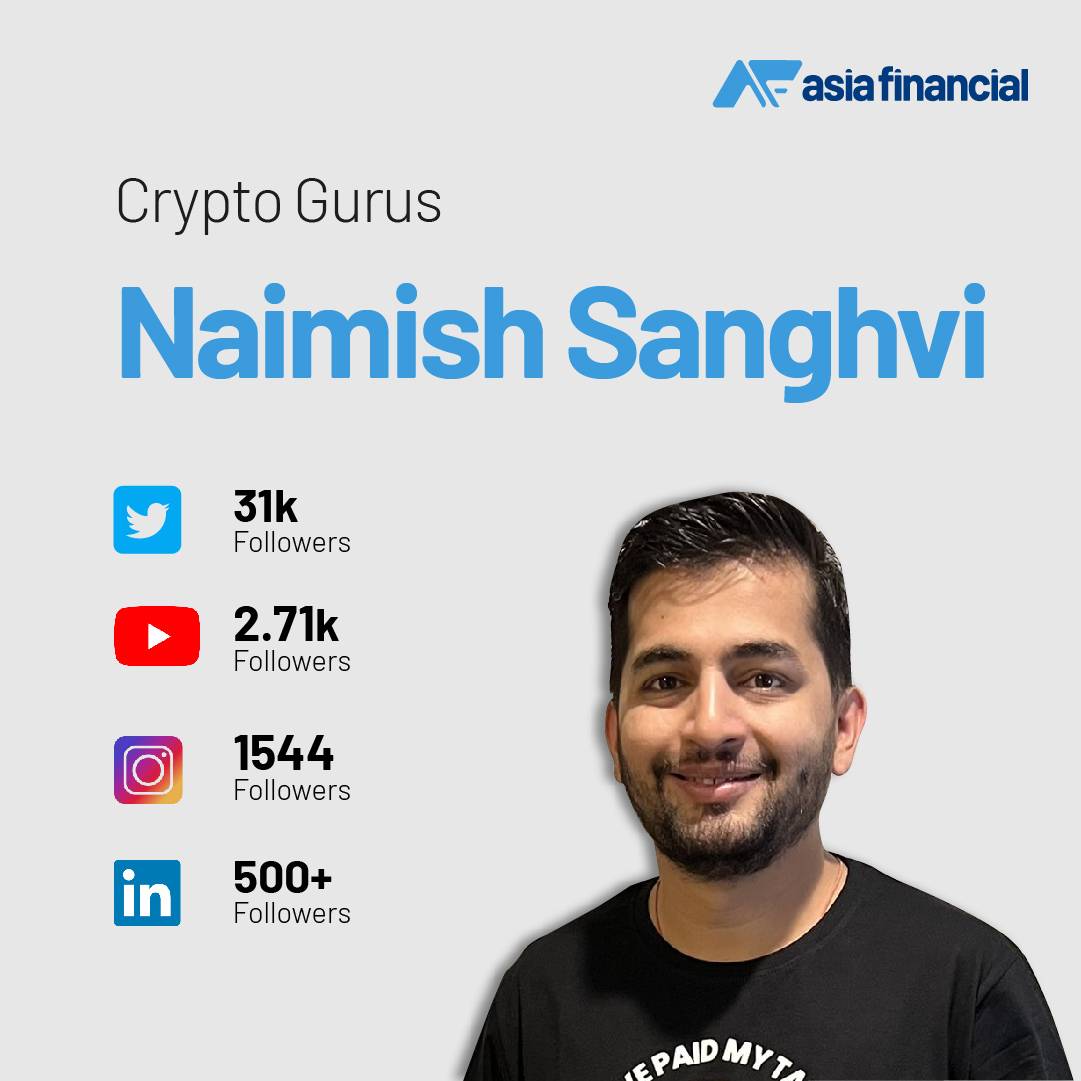 Naimish Sanghvi, 33 and a journalist, discovered crypto during a career break in 2016. Soon, his 'Finally Jobless' blog, with occasional posts explaining crypto trades, was amassing hundreds of thousands of hits. 
In 2018, Sanghvi founded CoinCrunch, the country's only media portal dedicated to crypto and blockchain news and is now a regular contributor to Fintech.tv's bimonthly Digital Asset Report. 
Sanghvi has also helped develop MultiSender, a decentralised application that allows users to send thousands of tokens to multiple addresses by batching the transfers and automating the process. 
He laments the regulatory heavy-handedness in India. 
"There is an exodus of crypto entrepreneurs and the majority are leaving for tax-friendly Dubai," he says.
9: Pareen Lathia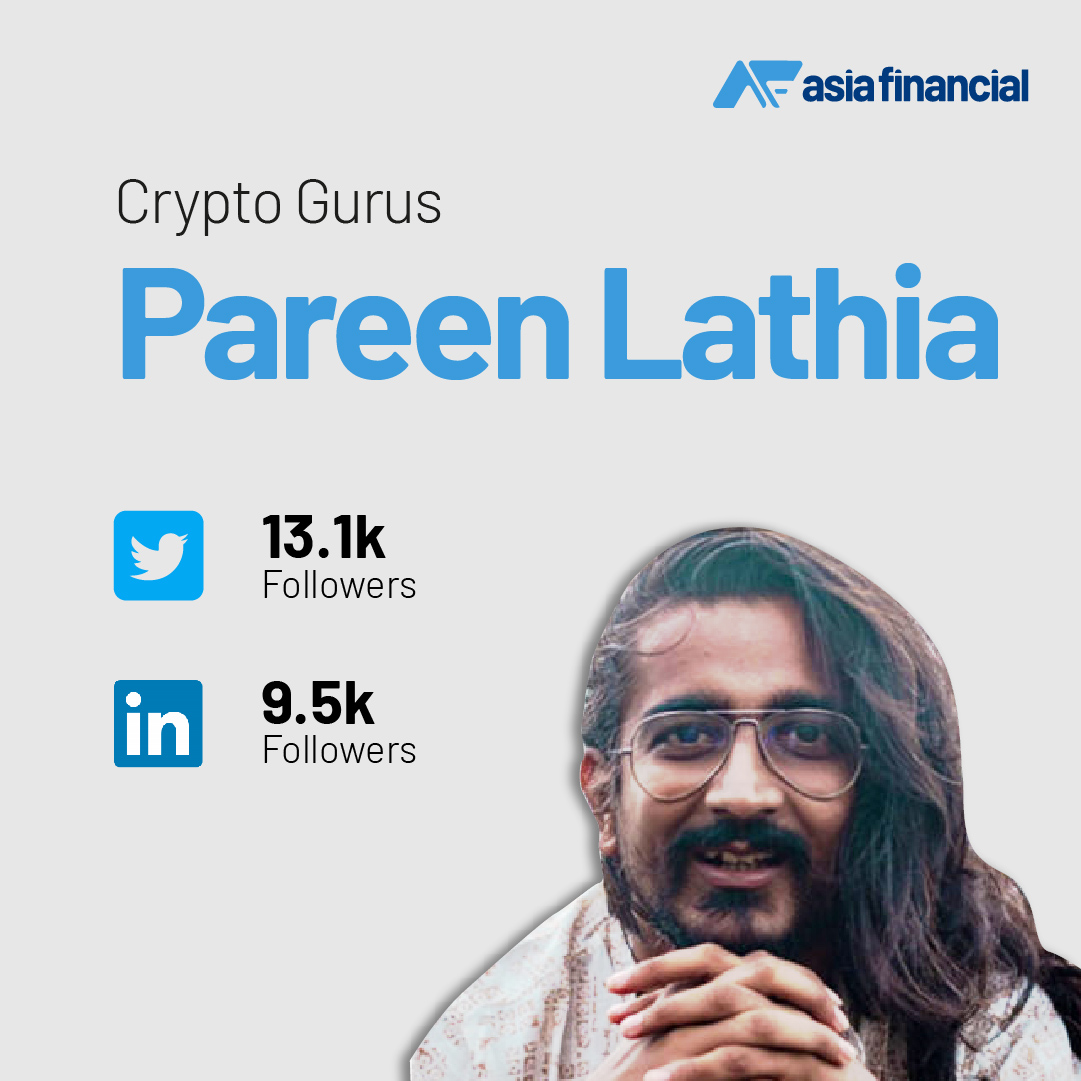 A crypto trader, writer, and former assistant vice president of marketing at WazirX, Pareen Lathia, 35, works with start-ups on funding. He co-founded Genezis Network with Ajeet Khurana (see above) and more recently, BuidlersTribe, an incubator. In January, he got a $2-million convertible grant from decentralised crypto platform Polygon for an in-house initiative called Buidlers DAO.
Lathia is a champion of Decentralised Autonomous Organisations (DAOs), a Web3 concept that links people with shared interests on the internet using blockchain. Besides DAOs, Lathia expects Lightning Network, which speeds Bitcoin payments by moving them off the chain, and Decentralised Finance to gain ground in 2022. 
Lathia's workshops, focused on the basics of crypto, are on Bitclass.
10: Tanvi Ratna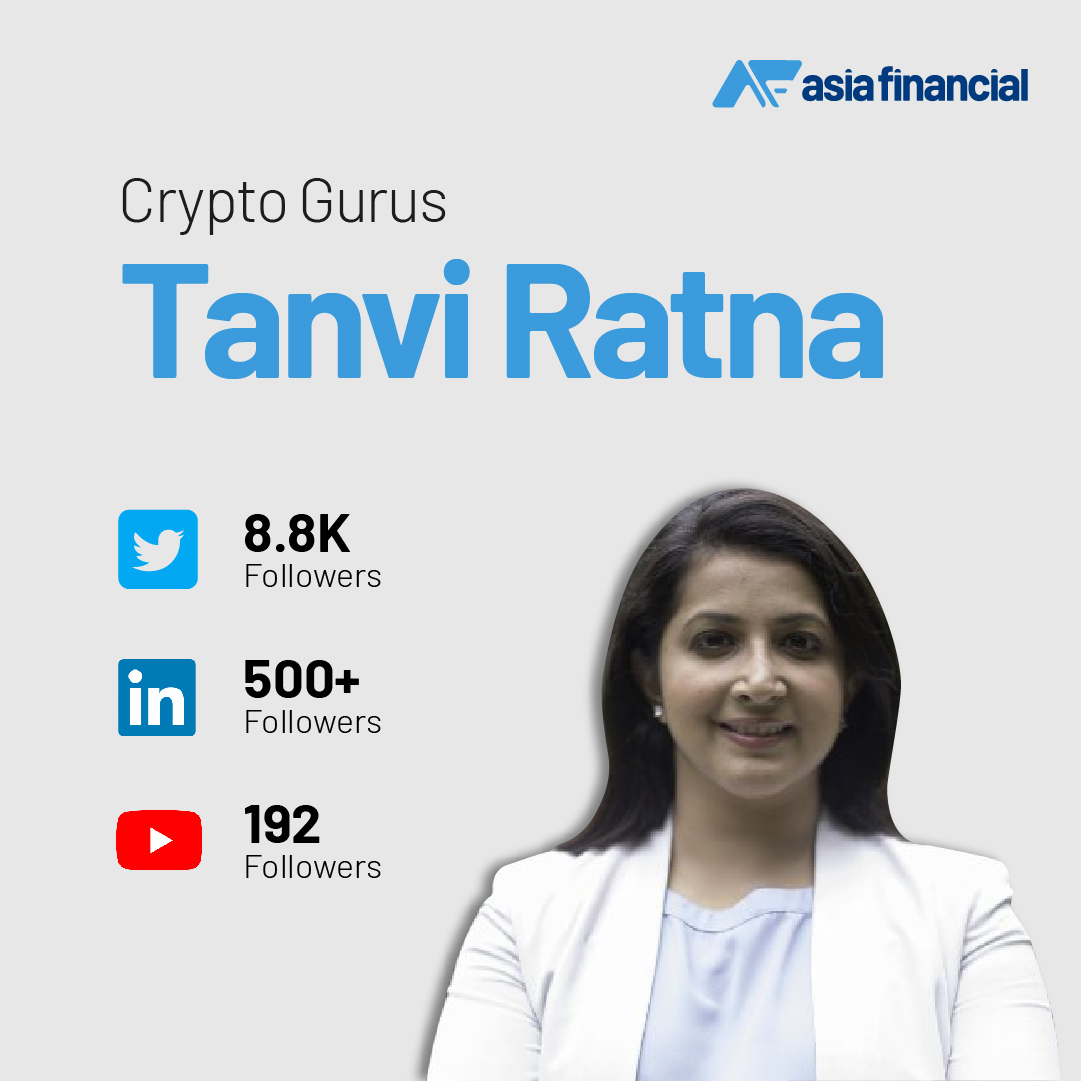 Tanvi Ratna is a policy advisor for blockchain technology and digital currencies and founder of Policy 4.0, a think tank for emerging technologies.   
Late in 2021, she and her team proposed Indians be given individual wallets, which store private keys, to regulate crypto activity and address India-specific risks. In an opinion piece published in the Economic Times, Ratna argued that such a wallet, connecting the user to the crypto ecosystem, would take into account the substantial decentralised activity in India and improve oversight. 
Ratna, who graduated from the Georgia Institute of Technology in 2009 and then studied public policy, has worked as an analyst on Capitol Hill and with the Indian federal government and several other departments on blockchain regulation. She is also part of the global editorial team at Coindesk, the news platform. 
Read more: Asia Becomes the Epicentre of Global NFT Crypto Craze
India's Vishal Malhotra Makes Asia's First NFT-Funded Movie
In Depth: How Asia's Top Day Traders Make Money